SmartDesk from Desqoo : SMART DESK AS THE NEW FACE OF WORK FROM HOME FURNITURE IN INDIA
With offices moving rapidly into our living spaces, we are required to work smart, innovate ways to stay organized and lift our spirits up to be disciplined.  As mundane corners and quotidian segments of our home are transformed into productive work-from-home office spaces, choosing the right furniture plays a very important part in this metamorphosis. Ergonomic, comfortable, and carefully crafted work from home furniture is the need of the hour, and if one had to choose an inevitable piece of furniture, it has to be the Smart Desk! Smart Desk in India is emerging as the go-to furnishing element to quickly and effectively set up home offices and we have curated the desired features in a smart desk that makes it the soul of  the newly emerging phase of workspaces.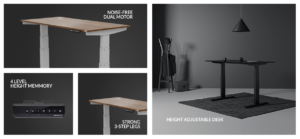 The most ingenious feature of Smart Desk India is its adaptability, making it an apt metaphor for the current work-from-home circumstance. The ideal smart desk can be easily transformed and assembled, but is also capable of transforming the space it is put in. A Smart desk can be put near an open window and with any chair pulled in, voila, a new workspace is created! A Smart Desk for home space is that carefully crafted chameleon of furniture, wonderfully immersing itself into its ambience.
Catering to the challenging demands of home offices, Smart Desk in India earns its epithet by being unique in its design and specifically well-crafted for work-from-home spaces. The design is sleek, chic and clean making it congenial to the commitments of working within what was previously domestic environs. Easily mobile and moveable to different corners of your home, it satiates the human urge to rebel against monotony while ensuring that work goals are met on time.
Smart desks in India are getting extra love from patrons of minimalism for being compact and comfortable. Like a beautifully constructed mathematical theorem, ergonomically designed smart desks are succinct design marvels which can unravel the usual difficulties of working from home like lack of space and increased fatigue. With its inbuilt feature of height adjusting electronically which is incorporated by the best Smart desk dealers in India, the usual occupational maladies of backache and eyestrain can be effectively avoided. The feature of height adjusting desk also facilitates the flexibility of working by sitting as well as standing, which keeps our body in movement continually as required. This element of Smart Desk for home office is especially suited for long hour meetings and brainstorming sessions and has found satisfied consumers working from home in a wide variety of fields ranging from telemedicine to IT industry. 
Smart desks are pleasing to the eye and can convince the aesthete within us. The minimalist design adapts well to the surrounding decor of any dispensation, while also marking its own distinctiveness.  While not upsetting or drastically altering your carefully planned homes, Smart desks for home office are exquisite in its utility and efficiency. It marks out a space as work space immediately and also is efficient to be a self-contained landscape of your work.  The best Smart desk dealers in India will tell you this is the only piece of furniture required for an instant makeover of everyday spaces into home offices.
Your search for the ideal smart desk reaches its happy ending with the discovery of SmartDesk from Desqoo. One of the most reliable and respectable smart desk dealers in India, Desqoo offers for its customers the SmartDesk which combines all the requisite features of an excellent smart desk to make your work from home experience enjoyable as well as professionally satisfying. Sleek and chic in appearance, SmartDesk is easy to maneuver and operate. SmartDesk of Desqoo armed with the height adjusting technology can combat ailments associated with sedentary work such as persistent backaches, eye strains and stiff necks. An integral part of the modern workspace,   SmartDesk is easy to assemble, shift across rooms and with its spacious desk top can accommodates your storage needs as well.  Transforming according to individual needs as well as shapeshifting within the space it is placed in, SmartDesk from Desqoo, one of the best smart desk dealers in India, combines all the desirable features of work-from-home furniture.