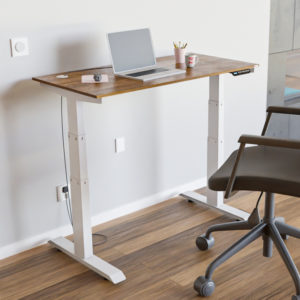 1. CARVE YOUR CORNER
Long hours of work-from-home demand a space conducive for creativity. While creating a set up for home office, picking the right spot ensures productivity and innovation.  Choose a quiet corner away from the hustle and bustle of the household. A guest bedroom, a part of the porch or the balcony can all be revamped into work spaces with the right work from home furniture. If you don't have a large house or you are a working mother with the extra burden of homeschooling children during the pandemic, don't worry, create artificial boundaries within the space you have.  Work smart with desks put on either side of a bookshelf or have a temporary folding screen or glass partitioning to section out the work space. Co-working with your partner by placing desks facing away from each other in the same room can give you the necessary intimacy but also ensure a smooth zoning into your work without distractions.
           2. GET THE DESK RIGHT
Invest in ergonomic furniture to get the best out of those long hours working from home. A smart desk which is comfortable and adaptable to the needs of our body as we navigate through the hectic work hours can go a long way in keeping our energy intact and attention alert.  An adjustable desk and a comfortable chair will keep our spines erect and eyes relaxed at an optimal distance from the different types of screens we juggle for work.  A desk with storage can help your mind unclutter by keeping the work space clean and organized. Don't forget to check for spacious leg rooms under the desks for those quick stretches during breaks to get your A game back on! Opt for the SmartDesk from Desqoo, with enviable experience in creating the best height adjustable tables in India, to get the best smart desk in the market.
          3. LET THE LIGHT IN
Proper lighting is very important in optimizing efficiency as well as to drive away the indoor blues. Shift the work from home furniture to a sunny spot to soak in the Vitamin D and to invigorate your happy hormones.  A height adjustable desk by the window can open clogged windows of creativity in our minds as well. Control the natural light with sophisticated venetian blinds or simple cotton curtains.  If you live in an apartment with low lighting, trick your brain by installing layered lighting with ambient lighting at the ceiling and task lighting at your desk level. Lights are best paired with carefully crafted work from home furniture, especially smart desks like SmartDesk from Desqoo. Drive out eyestrain and headaches and let your mind illumine for the challenges of work from home. 
          4. A SLICE OF INSPIRATION
Your work might be routine and demanding during the work-from-home phase, but nothing stops you from making your process exceptional and unique. Keep at sight totems of attention to grab back the wandering mind. A photo on your desk of your office team celebrating a career goal , a certificate of appreciation you earned at work mounted on the wall or inspirational quotes of leaders you admire chalked in your mood board can uplift your sagging tired brain from the mid-day slump. Bring in the outdoors to get some green inspiration by placing indoor plants or hanging up botanical prints.  A small stretch on your thinking-futon, or a cup of coffee in the recliner chair can set the train of work chuffing again. Remember while setting up your work from home space that a small spark can go a long way in rekindling the fire of efficiency.  
          5. CUT OUT THE NOISE
Keep your work from home office clean and devoid of outside interruptions like you would treat a sacred space of prayer.  A smart desk which has enough space to install your work gear yet hide away the ugly coils of cables and wires can keep the desktop look sleek while giving enough room for the busy mind to calm and take charge.   If your home office is set up adjacent to the kitchen, light a set of aroma candles or refresh the room with a whiff of a pleasing air-freshener. Crystal terrarium or an old fashioned bunch of fresh roses and lemon slices in a jar on the work-from-home compact side table can mask the invading masala monsters wafting in.  A mini air purifier mounted on the wall can also do the trick.  If you cannot find your rhythm with the noise of daily life around you, get yourself a good quality noise cancelling set of headphones and create your own background music to your work-from-home thug life.